24/11/2016


---
Gillanglaze house featured on Grand Designs
In 2014 we were commissioned to design a rug for a new house in Cornwall called Gillanglaze designed by John Pardey Architects. Having won a RIBA South West award the house has recently been shortlisted for the RIBA 'House of the Year' award and as a result will feature in a short Grand Designs Documentary on Channel 4 on 24th November 2016.
Below is a snapshot of the rug in progress we will be watching closely to see if we can spot it in the programme on This evening!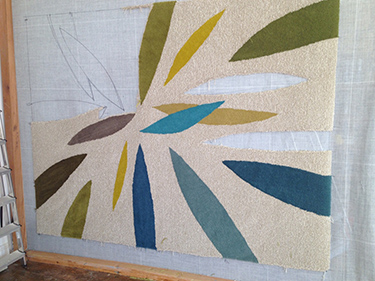 22/11/2016


---
Latest commission successfully installed
This large, unusually shaped rug was designed to soften the reception area of this London office and sit alongside the Michael Craig Martin artwork on the wall.
If you have a project coming up and would like to talk to us about commissioning a bespoke rug for your space please email; gallery@helenyardley.com or call the studio on 0207 403 7114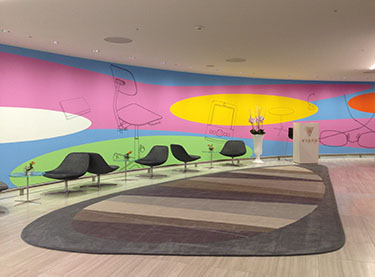 17/11/2016


---
New colour way for Cha Cha Screen printed rugs
The latest addition to the 'Cha Cha' range of screen printed rugs has arrived at the studio and is perfect for brightening up the long winter evenings. Spice is currently available in 2 x 3m or other smaller sizes on request. More images can be found in the gallery here and they can be found on the price list here

09/11/2016


---
Template for a new commission
We were recently commissioned to design a new rug for a reception area in London Bridge. The brief set was to create a rug which worked with the Michael Craig Martin artwork and with the curve of the wall. In order to achieve the perfect size and shape the HY studio team created a life-size paper template on site which was then sent on to our Yorkshire-based manufacturers. Watch this space for photos of the finished rug in situ.