06/04/2017


---
Pink Zip rug for Clerkenwell Design Week

26/03/2012


---
New Website Newsletter
Click here to view our latest Newsletter regarding our new website.
At www.helenyardley.com you can now view the entire collection of rugs and wall hangings currently available from this foremost British design studio. Visit the Gallery section where you can view all available designs at a glance. Click on a specific design to view alternative colourways on offer, or refine your search by selecting a preferred colour palette. In Commissions, the process for customising or commissioning a design is clearly explained whilst Craftsmanship focuses on the care and attention that is invested in the production of every hand crafted Helen Yardley design. Please note that the vast majority of Helen Yardley pieces are made in Britain.
If you would like to be kept up with the latest news from Helen Yardley studio, simply subscribe to our newsletters using the email form below.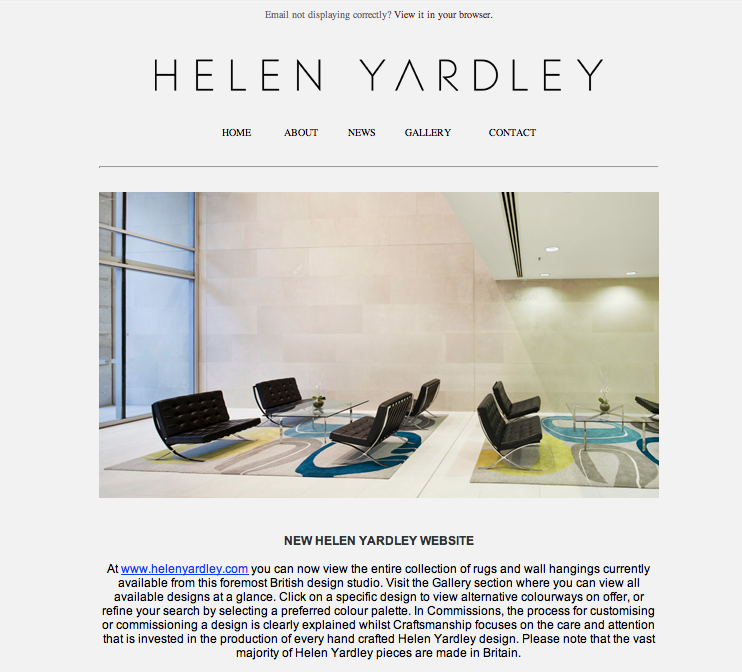 Latest Tweet
@HY_Studio
Warning
: file_get_contents(http://search.twitter.com/search.atom?q=from:HY_Studio&rpp=1): failed to open stream: HTTP request failed! HTTP/1.0 410 Gone in
/nfs/c09/h04/mnt/137133/domains/helenyardley.com/html/wp-content/themes/yardley/archive.php
on line
46
""
Archive
Categories
Tumblr
Newsletter
Website
Uncategorized